On August 7, the 7th Shanghai University of Finance and Economics MBA Integration Practice Project Competition were held online. Professor Wei Hang, COB Associate Executive Dean attended the event and delivered a speech. He introduced the history, construction of academic discipline, world ranking and additional basic information of the university. He expressed hope to the students in the integration of second classroom to enhance the theoretical and practical task ability and to achieve a real unity of knowledge and practice. After that, the company representative, Lin Qingxuan brand founder Sun Laichun uttered about his personal experience combined with the seventh integration project, and showed a high degree of recognition to the professionalism and dedication from teachers and students of the university in participation process.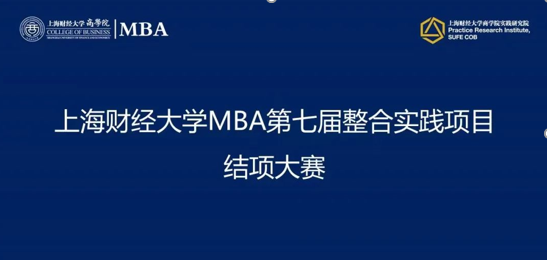 The judges panel of the competition included Professor Dong Jing, COB Associate Dean; Cao Cheng, Managing Director of Tianye Consulting; Dai Jian, Founding Partner of Hongji Capital; Professor Sun Qi from Department of Marketing of COB; Professor Wang Wenbin from Department of Operations and Management of COB; and Xu Songwei, Executive Director of the MBA of COB. More than 20,000 participants participated in the event including project instructors, alumni representatives, student representatives, senior director of business operations of Bailian group. Shi Xiaolong, Executive President of Red Star Macalline of Bailian Group, Chen Donghui, Assistant General Manager of Hong Kong China Travel China International Logistics Co., Ltd., Lin Yanqing, and Head of the strategy of Hong Kong China Travel China International Logistics Co., Ltd. , Xue Lei, General Manager of Shanghai Bao Xin e Management Consulting Group Co., Ltd., Xu Zhonglin, and Marketing Department of Baibutong Network Television Technology Development Co., Ltd., Liu Qi, the integration practice project competition focuses on "New Retail", predominantly including project report presentation, on-site defense, Integration Practice Outstanding Project Award and other segments. A total of 12 groups of MBA students presented their reports on their integration practices and thus, received comment and questions from the expert and open panels.
The integrated practice project, as an innovative course on Shanghai University of Finance and Economics MBA program, has been held for seven years involving 50 companies in total and more than 500 students. The seventh integration practice project actively follows the National Strategy, focusing on the new retail issues in digital intelligence age. The project organically combines the intellectual advantages of universities with the key issues of economic and social development to contribute financial wisdom and the strength of Shanghai University of Finance and Economics to cultivating business talents, enabling business practice, and promoting business civilization.